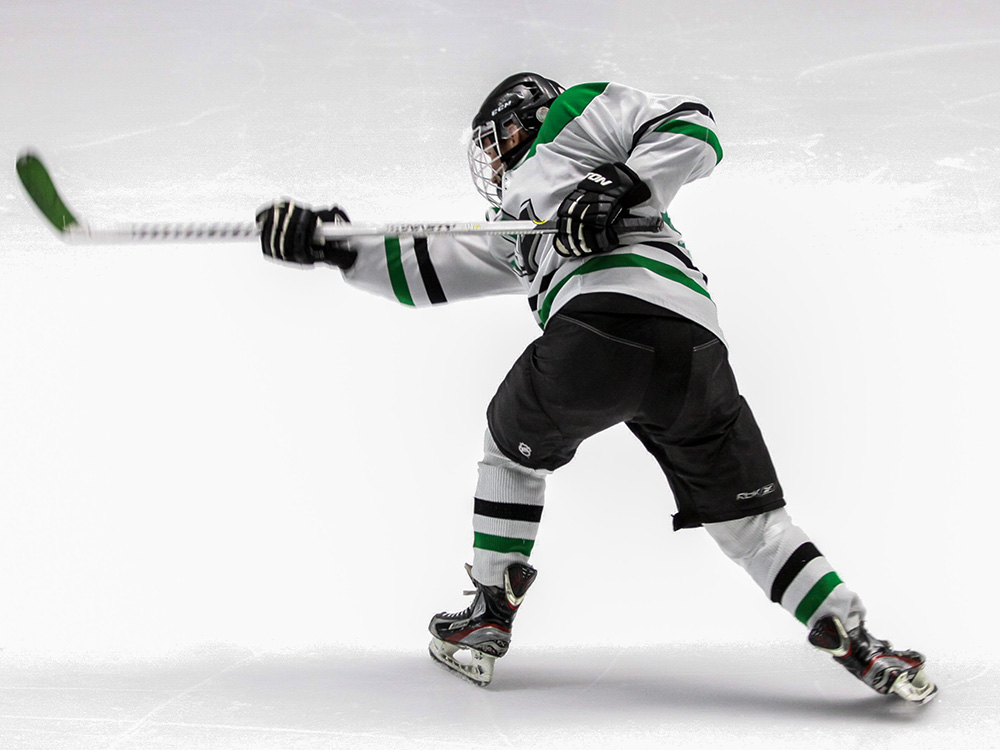 Description
FunTeam Alberta promotes family oriented, low cost, and less competitive sport to be enjoyed by participants of all skill levels. We are an inclusive organization that encourage any activity to be FUN for the participants, parents, coaches, volunteers and the rest of the community!
Drumheller FunTeam Hockey Club offers recreational non contact hockey for the following age groups... please note that players ages may vary as we also look at skill level as a determining factor to which group we can offer participants. Our Groups are:
ROOKIES (ages 5 & up) - Beginners Group  where basic skating & hockey skills are taught + scrimmage + some games
JUNIORS (ages 11 & under) - includes advanced skating & hockey skills & position & games 
VARSITY (ages 15 & under) - includes more advanced skating & hockey skills & strategies & games 
INTERMEDIATE (age 18 & under) - includes weekly scrimmages, some skill & strategies development & games
SENIOR(over 18) - includes mentoring Intermediates & weekly scrimmage games
What to Bring
Equipment Required:
Neck Guard (preferable BIB style)
Helmet with cage
Shoulder Pads
Elbow Pads
Hockey Gloves
Jock or Jill Shorts
Hockey Pants
Shin Pads
Hockey Socks
Hockey Stick
Fees
Important: $10 of the listed registration fee covers your FunTeam membership which is required to join a FunTeam group. Please submit all of your fees to your Group Manager in a timely fashion as it is required to complete the registration process.
DO  NOT  PAY  ON  LINE..... ALL  FEES including FunTeam ALBERTA'S $10 Registration FEE will be collected by Drumheller FunTeam Hockey Club and paid on your behalf.   Thank You!
FunTeam Alberta Membership Fee = $10
Drumheller FunTeam Hockey Ice Fees = $75
If new Jersey Needed = $15
Optional: Junior & Varsity Players who wish to sign up for the September 25 & October 2, 2022 Conditioning Camps must register on September 14 at the In Person Registration @ BCF Rec Expo from 4 - 7pm.@ cost of $10/player/session.
Please note that all Families who register for the coming year must commit to the participating in the Annual Gift Card Fundraiser*
Fundraiser Order Form & Details to be received @ September 14 Registration Night.
Drumheller FunTeam JUNIORS Fee Breakdown
Drumheller FunTeam ROOKIES Fee Breakdown
Drumheller RecTeam INTERMEDIATES Fee Breakdown
Drumheller RecTeam SENIORS Fee Breakdown
Drumheller RecTeam VARSITY Fee Breakdown
Group Leader Info
| | |
| --- | --- |
| Name | Nicky Sereda |
| Email | funteamdrumheller @gmail.com |
| Phone Number | 14038200162 |
Volunteering
FunTeam volunteers are our most valuable resource. We can't thank you enough for your commitment to our programming and bringing our model of sport to your community.
Volunteers Always Welcome!!
Anyone Interested in Volunteering (Coaching & Other) please contact Nicky @ 403-820-0162.
Teams
Drumheller FunTeam JUNIORS
JUNIORS (ages 11 & under) - includes advanced skating & hockey skills & position & games
Ages 11 & under
Start Date: Oct 16, 2022
End Date: Mar 26, 2023
Max Participants: 32
Team Fees: $75.00

Team Contact

NIcky Sereda

funteamdrumheller @gmail.com

403-820-0162
Drumheller FunTeam ROOKIES
ROOKIES (ages 5 & up) - Beginners Group where basic skating & hockey skills are taught + scrimmage + some games
Ages 5 & up
Start Date: Oct 16, 2022
End Date: Mar 26, 2023
Max Participants: 41
Team Fees: $75.00

Team Contact

Nicky Sereda

funteamdrumheller@gmail.com

430-820-0162
Drumheller RecTeam INTERMEDIATES
INTERMEDIATE (age 18 & under) - includes weekly scrimmages, some skill & strategies development & games
Ages 18 & under
Start Date: Oct 16, 2022
End Date: Mar 26, 2023
Max Participants: 18
Team Fees: $75.00

Team Contact

Nicky Sereda

funteamdrumheller@gmail.com

403-820-0162
Drumheller RecTeam SENIORS
SENIOR(over 18) - includes mentoring Intermediates & weekly scrimmage games
Ages 19 & up
Start Date: Oct 16, 2022
End Date: Mar 26, 2023
Max Participants: 18
Team Fees: $75.00

Team Contact

Nicky Sereda

funteamdrumheller@gmail.com

403-820-0162
Drumheller RecTeam VARSITY
VARSITY (ages 15 & under) - includes more advanced skating & hockey skills & strategies & games
ages 15 & under
Start Date: Oct 16, 2022
End Date: Mar 26, 2023
Max Participants: 28
Team Fees: $75.00

Team Contact

Nicky Sereda

funteamdrumheller@gmail.com

403-820-0162