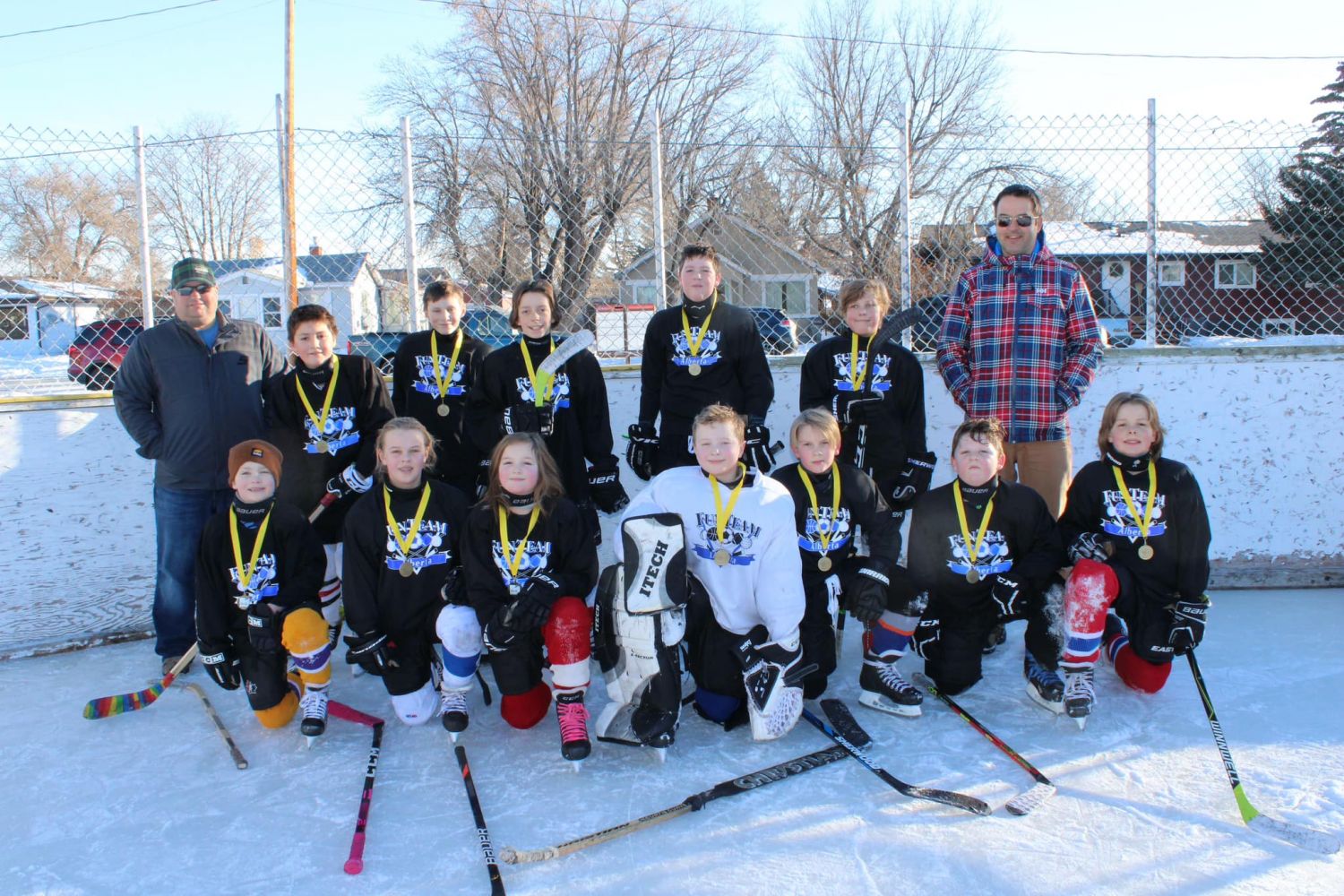 Description
FunTeam Alberta promotes family oriented, low cost, and less competitive sport to be enjoyed by participants of all skill levels. We are an inclusive organization that encourage any activity to be FUN for the participants, parents, coaches, volunteers and the rest of the community!
Hockey is our local "Fun" hockey team for children primarily ages 8-18. We are fun, family orientate, non-contact, non-competitive hockey team that plays in Stettler and central Alberta.
Teams will receive 1 practice weekly, with games beginning a few weeks after the start date with other Fun Teams in the surrounding areas. Team Managers will do their best to schedule a game weekly (usually Saturdays) with equal games in Stettler and traveling away.
The teams are grouped by age and at times, skill level. The age ranges listed below are an approximation.
Junior Ages 8-10
Intermediate Ages 11-14
Senior 15-18
What to Bring
Full Equipment is required:
Helmet
Chest protector

hockey pants/shorts

Elbow pads
Shin pads
Shoulder pads
Hockey gloves
Athletic jock protector
Neck protector
Hockey skates
Hockey stick
Hockey socks & sock tape
Fees
Important: $10 of the listed registration fee covers your FunTeam membership which is required to join a FunTeam group. Please submit all of your fees to your Group Manager in a timely fashion as it is required to complete the registration process.
$300 fee per participant for the 2023/2024 hockey season. Fees include the $10 FunTeam membership. The majority of the fees go towards rental of ice in Stettler, but also towards tournament entries and year end celebrations.
Fee's can be paid via cheque to Stettler FunTeam Hockey, cash, or via email transfer to stettlerfunhockey@gmail.com
Stettler FunTeam Intermediate Fee Breakdown
Stettler FunTeam Junior Fee Breakdown
Stettler FunTeam Senior Fee Breakdown
Group Leader Info
| | |
| --- | --- |
| Name | Katie Veldkamp |
| Email | stettlerfunhockey@gmail.com |
| Phone Number | 403-340-9414 |
Social Media
FunTeam Alberta is not responsible for content created on third party sources.
Volunteering
FunTeam volunteers are our most valuable resource. We can't thank you enough for your commitment to our programming and bringing our model of sport to your community.
Volunteers are how we keep our group going and our kids playing! Volunteering in not "required", but we ask that all parents/guardians participate, whether it be score keeping, helping to coach and assisting with hosting the local tournament. We would have no FunTeam without our awesome volunteers (you!)
Teams
Stettler FunTeam Intermediate
Ages 8-10
Spots Available: No Limit
Start Date: Oct 16, 2023
End Date: Mar 15, 2024
Max Participants: No Limit
Team Fees: $290.00

Team Contact

Carrie Deems

c_bear06@hotmail.com

403-741-7631
Stettler FunTeam Junior
Ages 11-14
Spots Available: No Limit
Start Date: Oct 16, 2023
End Date: Mar 15, 2024
Max Participants: No Limit
Team Fees: $290.00

Team Contact

Candace Waugh

Candace48@hotmail.com

403-323-2323
Stettler FunTeam Senior
Ages 15-18
Spots Available: No Limit
Start Date: Oct 16, 2023
End Date: Mar 15, 2024
Max Participants: No Limit
Team Fees: $290.00

Team Contact

Sheree Yakalashek

shereemailer@gmail.com

403-741-6691